By BRANDON STONE @Brandon_SVH | Skagit Valley Herald | August 6, 2017 
Trish Hatley came out swinging. 
A lifelong jazz vocalist and Skagit County local, Hatley built a following with her renditions of the swing classics of The Great American Songbook, going up and down the coast keeping the songs of the early 20th century alive. "These standards have been done for decades and decades," she said. "But they still feel so new." But recently, Hatley has been exploring the spiritual side of music, and what songs can do for the psyche. Affirmational music, she said, has helped her make positive change in her life, and through her new projects, she hopes to share her findings with the world. 
Coming up with swing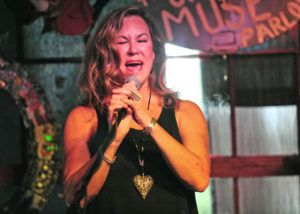 Hatley got her start here in the valley, singing along with her parents and brothers, who were all musicians. "My parents played music six nights a week," she said. "That's how they made their living." Her parents opened the Quarter Note, a jazz club in Anacortes, when Hately was in her 20s. While it only lasted four years, she said it was one of her first opportunities to sing regularly in front of an audience. Not long after, Hatley started a weekly jazz show at the Conway Tavern, and started booking gigs throughout the county, the region and, soon enough, across the country. 
She often performs, as "Trish, Hans and Phil," with Hans Brehmer and Phil Demaree, and has a large stable of local musicians with whom she collaborates. Lately Hatley's been splitting her time between Skagit County and Palm Springs, California, but she always comes back home in the summer. 
John Anderson first met Hatley on her 30th birthday, when he was playing a show at the Elks Club in Anacortes, and was invited on stage to sing. "At the next break, the band leader pulled us all aside (and said) 'What do you think, should we just hire her?'" he said. Since then the two have collaborated on eight albums and play together almost weekly when Hatley is in town. Hatley, Anderson and their regular collaborators play differently than other jazz groups. While most groups come together for a show or two, "Trish, Hans and Phil" practice together, debrief after shows and work to help each other improve. It's like a family, he said, more so than any jazz group he's played with. "After doing this for a while, there's something nice about the security," he said. "But you have to work at keeping it fresh." 
Hatley said the family feeling extends out to her fans, the dedicated group of swing enthusiasts who've been following her work for decades. Delmar Masson is one of those fans. At 87, he's been following Hatley for about 20 years, since he and his friends saw her perform in Marysville. Since then, he's seen her at the Rockfish Grill, the Swinomish Casino, the Conway Muse and wherever else she's played in the county. Himself a former musician, he appreciates being able to hear the classics from his youth played with reverence and energy. "I worked my way through college playing six nights a week," he said. "(The music) triggers all kinds of old memories." While he feels the classic American big-band music he grew up with has universal appeal, it's clear that it's not drawing the audiences it used to, he said. That's why he's grateful for the groups Hatley plays with for keeping these songs alive. 
"There's this feeling, this sense of community, because so many of us have been following her for 10, 15, 20 years," he said. "She's a rare talent. "There's no big city fanciness to it. Just good music played well," he said. 
Hatley keeps a beat on the snare drum and sings while playing alongside pianist Hans Brehmer during a show at The Conway Muse on July 27. 
A new direction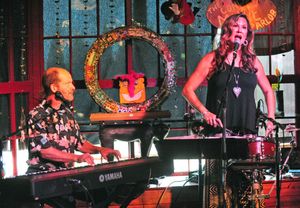 Seven years ago while on a walk through the woods, Hatley said she suddenly discovered her calling. "It was an epiphany, an 'ah ha' moment," she said. "I need to do an affirmation CD." And that's what she did. "Sing, Ask and it is Given," all original compositions, is made up of simple, swing-style songs that repeat such mantras as "I love myself." 
"Have you ever tried to look in the mirror and say 'I love myself?'" she said. "A lot of people can't do it." The idea, she said, borrows heavily from new-age thinking like the law of attraction — the idea that positive thoughts bring out positive experiences and negative thoughts cause negative experiences. She said she believes simply repeating positive phrases will bring about positive changes in attitude. The album gives listeners a quick, catchy way to do that. 
When the album was released in 2010, Hatley said she had a lot of trouble getting out there and marketing this unorthodox album. "There was a lot going on in my life (and) when the doors got shut, I couldn't take it," she said. In the time since then, she seems to have taken her own advice. No longer afraid of rejection, she's marketing her CD again, starting a book and working toward her next big goal of working as a motivational speaker. 
Her upcoming book, "The Power of Song," is a collection of these and other thoughts, and, she said, will attempt to explain to a wider audience the clarity and peace of mind that she's found. She is delving into the scientific research around music's effects on people, as well as the reported spiritual benefits of song. 
In September, she's going to Denver to give her first motivational speech about the power of music in our lives, something she's wanted to do for years. She realizes it's unconventional, but she said thinking this way has greatly improved her outlook and her self-esteem. 
Anderson, who contributed to the album, said he's noticed a change in Hatley's outlook since then. "A lot of (musicians) suffer from underconfidence," he said. "It goes with the territory." But since Hatley started thinking about the world differently, he said there's been an obvious change in her attitude. "There's definitely a change," he said. "She's one of the most positive people I know." Like any art, he said, personality changes with practice. "If you practice being positive ... you get better at it," he said. "If you practice being negative, well, you get better at that too." 
— Reporter Brandon Stone: bstone@skagitpublishing.com, 360-416-2112, Twitter: @Brandon_SVH